Once again, the Center for Prospective Studies of the University of Cuyo (Argentina) organized the annual conference based on virtual meetings addressing the topic of foresight and futures studies. Leading experts from England, Argentina, Italy, Israel, Finland and Spain participated; and the last session was performed by the OVTT: Technological Observatory of the University of Alicante.
The session took place on October 19th, 2021 with the title "Managing uncertainty: the value of technology intelligence for anticipating opportunities", by Alba Santa from the OVTT, Spain.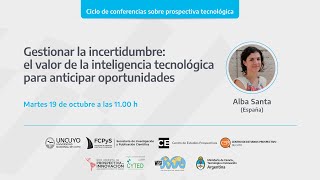 The conference was aimed at universities, science and technology organizations and the academic and scientific community. It is available on the Ministry's YouTube channel.
More information: Ministry of Science, Technology and Innovation of Argentina
See other topics