The #IntelligenceUA is the specialisation course in strategic intelligence for innovative organisations of the University of Alicante. This year incorporates more novelties in its edition, which is now open for enrolment. Thus, in addition to its hybrid methodology (virtual and face-to-face), the next course will have new teachers to improve this comprehensive and specialised training in strategic intelligence for innovative organisations.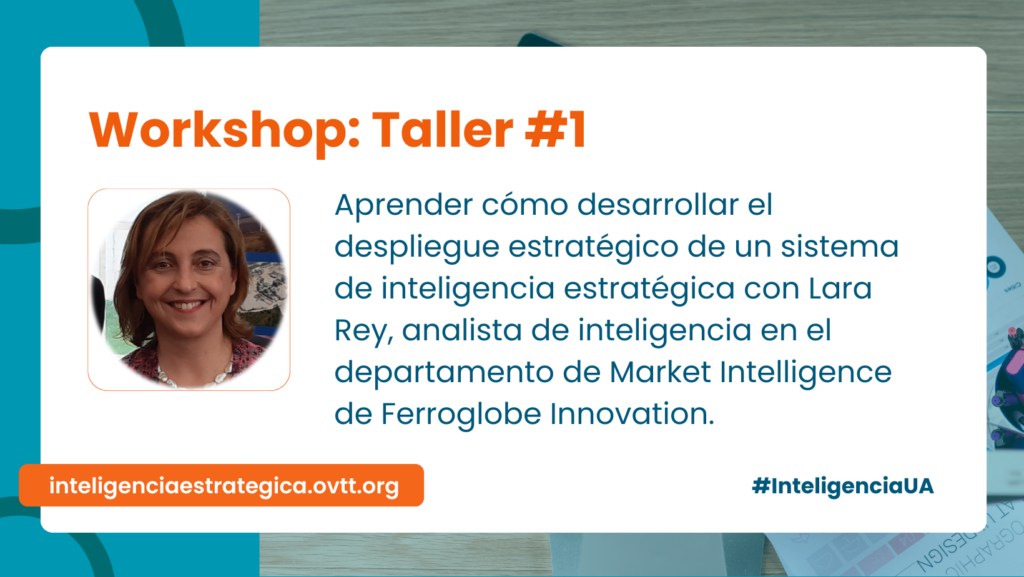 Lara Rey is an intelligence analyst in the Market Intelligence department of Ferroglobe Innovation. She holds a degree in Geography and History from the University of Santiago de Compostela, specialised in Library Science and Documentation, and has a postgraduate degree in intellectual property, technology scouting, competitive intelligence, and innovation management. She has a professional career of more than 25 years, linked to technology watch and competitive intelligence associated with R&D and innovation projects.
Her participation in #InteligenciaUA will be part of the Workshop on Strategic Intelligence for Innovative Organisations, where she will give the first workshop dedicated to the "Strategic Deployment of a Strategic Intelligence System".
The main objective of this training program is to provide companies, entrepreneurs and professionals with the development of specialised competencies in strategic intelligence and technology watch from the crucial role played by strategic management and the management of knowledge and intellectual capital in innovative organisations. To this end, the contents of this course will focus on four thematic modules:
Strategic management.
Knowledge management and intellectual capital.
Strategic implementation.
Strategic intelligence.
More information and contact:
The course is promoted by the Department of Business Organisation of the Faculty of Economics and Business Administration and the Technology Observatory of the University of Alicante, with the collaboration of organisations such as SCIP Spain, CDE Competitive Intelligence, e-Intelligent and Instituto Tecnológico de Informática, among others.
Visit their website: inteligenciaestrategica.ovtt.org
Consult the course information dossier
Contact the organizers at inteligenciaestrategica@ua.es
See other topics