Technology intelligence has become a fundamental business practice to compete in an increasingly digital, global and dynamic environment such as the present-day. Especially for technology companies, knowledge-intensive organizations and leaders in R&D projects.
Strategic monitoring, intelligence and environmental scanning associated with information and knowledge management help to be aware of the latest competitors news and systematically monitor the business environment. Moreover, supporting anticipation changes, minimizing risks and taking advantage of innovation opportunities are the base to perform better decisions-making.
Technology monitoring, environmental scanning and competitive intelligence
There is no single definition of technology monitoring or competitive intelligence, but multiple application domains depending on the goal and action scope. Examples could be environmental scanning, horizon scanning, business intelligence, competitive intelligence, strategic intelligence or technology intelligence, among others. Depending on the scope and size of the activity, those business practices linked to advanced information and knowledge management are given countless names.
Besides, monitoring and intelligence are related to each other, although they are two different concepts. Monitoring sets the effort into detecting and monitoring strategic information for the organization, while intelligence focuses on understanding, interpreting and contextualizing that information in order to transform it into useful knowledge and improve decision-making. The most common concepts in monitoring and intelligence are:
Environmental scanning
Active or passive technology monitoring / watch / scouting
Monitoring and technology intelligence
Competitive intelligence
Economic intelligence
Strategic intelligence
Technological forecast
Foresight
Prospective
Horizon scanning
Key Intelligence Topics (KIT)
In #MoocVT an e-learning specialized community for technology monitoring and intelligence, you will find more basic concepts just click here.
Intelligence process cycle
There is a general agreement on the monitoring and intelligence process stages called the intelligence cycle. Actually, all process aims to answer some fundamental questions: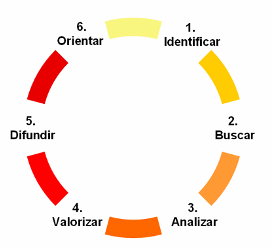 Which target should be known?
What has to be watched?
Who can provide this information?
How to capture, process and organize the information to extract its major value?
Which tools are needed?
To whom and how to communicate results?
How to measure the benefits regarding the efforts?
There are many methodological proposals to answer those key questions. To help to set up a focused, systematized and collaborative process within the organization, the main intelligence steps could be the following ones:
Stage 1: Diagnoses and priority
Challenge: To identity, specify and detail the target to be monitored.
To do this, it should be clear which technologies to monitor, which are the information needs and which are the Key Intelligence Topics (KIT). Those are strategic topics to bar in mind for formulating priorities, such as:
KIT on strategic decisions: referring to organisation strategic issues, especially regarding strategic planning and implementation. For instance, R&D policies, business plans, investment decisions, internationalization, etc.
KIT on early signs: capable of identifying potential future threats and opportunities for the organization. For instance, trends, new technologies, legislative changes, market niches, etc.
KIT on key players: related to market stakeholder's monitorization. For instance, competitors, customers, suppliers, partners, regulators, public decision-makers, etc.
The #MoocVT e-learning community has more information on technology monitoring and intelligence issues. Find more here.
Stage 2: Search and information gathering
Challenge: To design and implement information-gathering strategy.
For this, the information search target is defined and the strategy is set up to specify the need, locate and gather information in an organized manner. This involves tasks such as keyword identification, expert validation, information sources selection and search equation formulation (queries).
This stage requires digital skills going from information monitoring, critical analysis capacity and technical skills for efficient computer tools management.
The #MoocVT is an e-learning community specialised in technology monitoring and intelligence where to improve and learn more on those topics. Find more here.
Stage 3: information analysis
Challenge: To process and analyse the information gathered
To do this, information validation criteria, information-analytical techniques and specialized computer tools are combined to support the selection of the relevant information according to the search targets.
At this point, tools such as technology maps, patent software, bibliographic managers, information visualization or comprehensive technology monitoring software are essential.
In #MoocVT, you will find detailed information on specialized tools to carry out monitoring and strategic intelligence, Find more here.
Stage 4: Valuation of relevant information
Challenge: To value results through the elaboration of intelligence products.
It is essential to carefully analyse the valuable information for decision-making and develop effective monitoring and technology intelligence products with relevant results.
Many organizations publish specialized reports and newsletters regarding industrial sectors, technology and trends. In the sector information section of the website, you will find specialized information for each industrial sector, such as:
Technology newsletters.
Technology monitoring and reports.
Prospective reports.
Market studies.
Patent studies.
Specialized reports and newsletters etc.
Visit #MoocVT, and you will find more on strategic intelligence products.
Stage 5: Dissemination and communication
Challenge: To disseminate the results to the ones with decision-making responsibilities in the organization.
An effective internal communication strategy should be implemented throughout the organization, meeting the staff information needs. The communication means must be widespread covering both informal and formal ones. Besides, it is increasingly important to be able to involve all the human capital in the monitoring and intelligence process so the results are really used in organizational decision-making.
Stage 6: Decision making and actions
Challenge: To support decision-making process in the organization.
Taking into consideration the previous stage, internal and collective reflection on results obtained should be promoted. It is about interpreting results and proposing action possibilities to support the continuous decision-making process. This last phase shows how strategic intelligence is the reason to effectively undertake these efforts in organizations, so promoting innovation in business strategies.
Tools for technology monitoring and intelligence
Technology monitoring and intelligence tools are essential to gather, process and transform a large amount of data and information into useful knowledge for decision-making. There are multiple types of computer tools and software whose application depends on the information type and the resources available. The most extended are:
Metasearch engines: allow a single search on multiple search engines simultaneously, offering the results on a single screen and in an organized and hierarchical manner. They provide comprehensive results on a multitude of information sources and provide an overview of a specific topic.
Marketplaces: useful tools for promotion and commercialization of technology. They offer access to technology offers and requests published by researchers and companies, as well as partner search processes for transnational R&D projects. Find out more: technology marketplaces.
Analysis:
Open tools, such as:
Technology monitoring software: these are technological solutions designed for comprehensive and systematic management of technology monitoring practices. There is a wide range of offers, some free of cost, others by licence or SaaS, attending different sources of information and functionalities. For example:
To check more options visit #Open_tools in #MoocVT.
Resources to get started in technology intelligence.
Analyzing valuable information and communicating its potential to decision-makers is fundamental for monitoring and intelligence strategy success in an organization.
Therefore, the OVTT makes available to users and organizations interested in implementing strategic business practices, a wide variety of resources, tools and activities to get started: