En la current data-driven economy and digital transformation, the value of business practices such as strategic intelligence, also known as technology scouting and competitive intelligence, is essential for seizing market opportunities.
Therefore, the University of Alicante is launching the sixth edition of the Specialization Course: "Strategic Intelligence for Innovative Organizations," aimed at further assisting professionals in learning and implementing surveillance and intelligence systems within their organizations.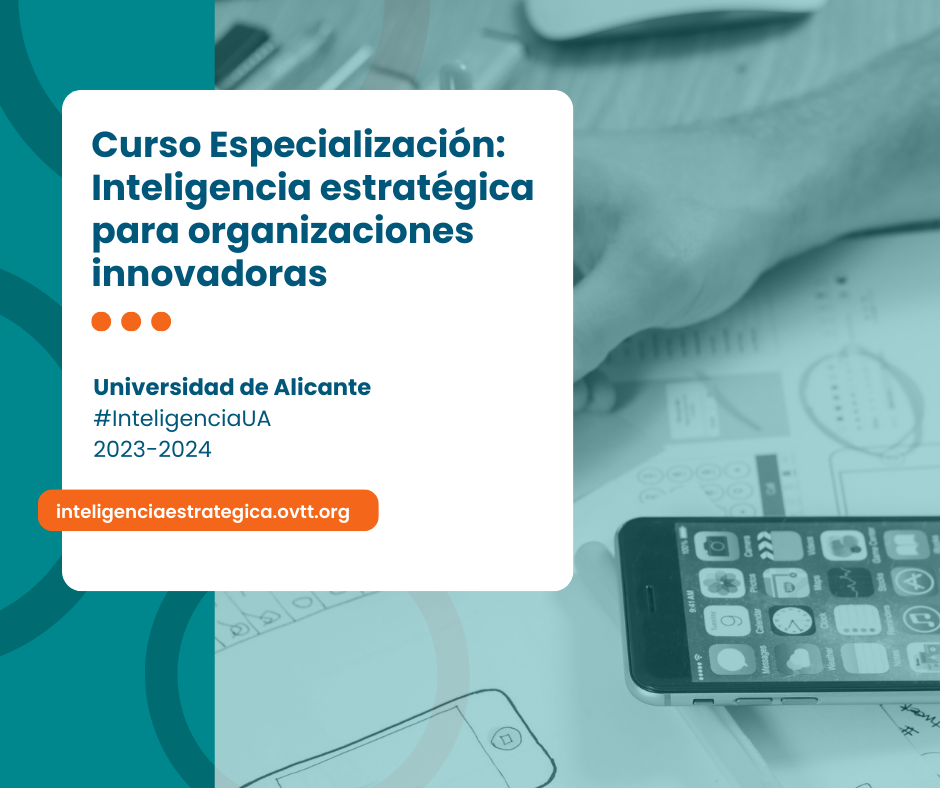 #InteligenciaUA: Specialization Course in Strategic Intelligence at the University of Alicante
#InteligenciaUA is the certified specialization program in strategic intelligence offered by the University of Alicante. It is designed to be completed from anywhere and at your own pace, thanks to its participatory, flexible, and hybrid methodology (combining virtual and in-person components). The program consists of three training phases and will be delivered by a mixed team of academics and professionals who are experts in surveillance and strategic intelligence.
To date, over 130 professionals from various countries and organizations, including universities, startups, knowledge transfer offices, technological observatories, R&D units in businesses, science and technology parks, patent advisors, foundations, technological centers, and public and private institutions involved in innovative initiatives and R&D projects, have successfully completed this tailored program.
Discover the key highlights of the program:
What will you learn in this course?:
The main objective of this training program is to provide companies, entrepreneurs, and professionals with specialized skills in strategic intelligence and technological scouting, focusing on the crucial role of strategic management, knowledge management, and intellectual capital in innovative organizations. The course content will revolve around four thematic modules:
Strategic management.
Knowledge management and intellectual capital.
Strategic implementation.
Strategic intelligence.
How does this course work?:
The course follows a participatory, flexible, and hybrid methodology (combining in-person and virtual components), allowing participants to complete it from anywhere and at their own pace. The training program consists of three phases:
Virtual Phase: Starting on October 2, 2023, participants will access the course's virtual learning platform and learn the applied fundamentals of the syllabus through lessons, activities, and virtual discussions.
Workshop Phase: From February 5 to 8, 2024, the Strategic Intelligence Workshop for Innovative Organizations will take place at the University of Alicante. This intensive week-long phase focuses on hands-on training through workshops and panels with professionals and experts in surveillance and intelligence, providing practical insights into the implementation of surveillance and intelligence systems in innovative organizations.
Final Project Phase: From February 12 to June 30, 2024, participants will develop their final projects with guidance and tutorial support from instructors.
Who are the teachin staff?:
Bartolomé Marco Lajara (UA)
Mercedes Úbeda García (UA)
Patrocinio Zaragoza Sáez (UA)
Alba Santa Soriano (OVTT, UA)
Sofia Oliveira Pires (OVTT, UA)
Cristina Triviño Sánchez (e-Intelligent)
Juan Carlos Vergara Villanueva (CDE Inteligencia Competitiva).
Francisco Ricau González (Instituto Tecnológico de Informática, ITI).
Rubén Arcos Martín (SCIP Spain).
Additionally, other national and international experts in the field will contribute to the course through upcoming activities.
Who are the teachin staff?:
In general, this training program is designed for individuals interested in knowledge management, innovation, and technology in organizations, particularly those seeking a deeper understanding of the value of strategic intelligence in driving innovation processes and international competitiveness in their organizations.
The course is suitable for a wide range of profiles, including:
Business owners and R&D department personnel.
Entrepreneurs and startups.
Managers and executives.
R&D directors and technicians.
Product development directors and technicians.
Sales directors and technicians.
Researchers and personnel from research centers.
Technology managers and personnel from technology transfer offices, technological institutes, and science and technology parks.
Innovation management consultants.
Market research and marketing professionals.
Specialized community managers.
Undergraduate and postgraduate students.
How to enroll?:
The enrollment period is open until all available spaces are filled. Due to limited availability, securing a spot in the course is guaranteed only upon payment of the registration fees. The enrollment process is straightforward and consists of two simple steps. Learn how to enroll by visiting the course website.
More information and contact:
The course is organized by the Department of Business Organization at the Faculty of Economics and Business, in collaboration with the Technological Observatory of the University of Alicante. It also involves partnerships with organizations such as SCIP Spain, CDE Competitive Intelligence, e-Intelligent, and the Institute of Technological Informatics.
For more information about this course, we invite you to:
See other topics