Innovation San Luis 2021 is a collective intelligence competition to generate creative solutions to real challenges. It is a contest designed by the National University of San Luis (UNSL), Argentina with the support of the Faculty of Physical, Mathematical and Natural Sciences (FCFMyN), the Secretariat of Technological and Social Engagement and the Ministry of Science and Technology of the San Luis province.
This contest combines innovation and work marathon jointly for a common goal. It will have multidisciplinary teams that work online for 4 weeks with the challenge of developing ideas and solutions to real technological innovation challenges. In the end, the 3 best solutions will be declared winners of the Innovation San Luis.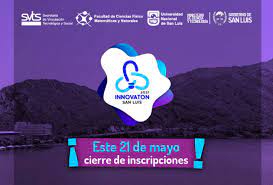 The main sectors of activity will address the following topics:
Health and Covid-19
Technologies and Digitization
Regional Economic Development
Water Resources Management
Energies and Development.
It is fundamental to remember the value of technology intelligence and entrepreneurship in this ambitious challenge.
Who can participate in the collective intelligence challenge?
It is aimed at Spanish-speaking people over 16 years of age: students, professionals, teachers, researchers, entrepreneurs, creatives, artists, businessmen, members of companies or NGOs, officials or personnel of the public administration and any person interested in working collaboratively to generate solutions to real challenges. Experts in various topics can also participate as mentors. The registration is open at: www.innovaton.red
More information: UNSL
See other topics