EU-LATAM SUMMIT in Circular Economy
Bilateral meetings to promote innovation and technology transfer in the circular economy sector among Europe and Latin America.
2021/12/01
Internet (Spain)
On December 1-2, is held online from Spain the EU-LATAM SUMMIT in Circular Economy. The event is a meeting point for bilateral gatherings, promoted by the Andalusian Knowledge Agency in collaboration with the Madri+d Foundation for Knowledge and the Business Cooperation Centres of Latin America of the Enterprise Europe Network.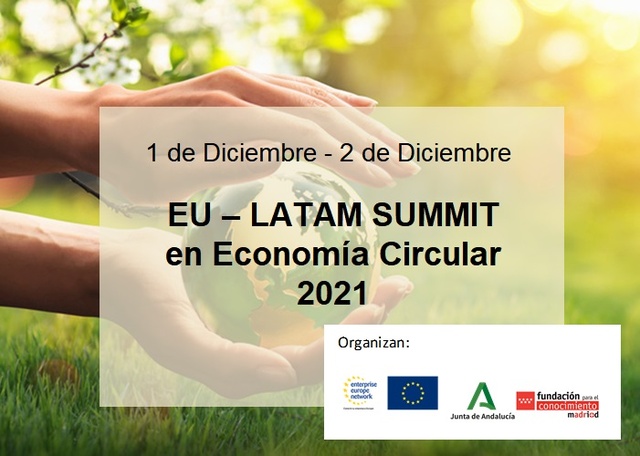 This international meeting will bring together entities from Europe and Latin America focussed on Circular Economy. The goal is the promotion of strategic alliances, technology transfer processes and dissemination of trends and technologies in the field of sustainability and circular economy. Bilateral meetings or b2b meetings will be organized in advance based on a pre-established agenda and at the same time, round tables, project pitching and presentations will also be organized.
The thematic areas of this meeting will focus on:
Bioeconomy
Agricultural and forestry biomass
Sustainable cities
Blue economy
Packing
Waste management and recovery
New raw materials
Organic products
Clean and low-tech technologies
Efficient use of resources
More information: EU-LATAM SUMMIT
See other sectors