ALTEC 2021
Biannual meeting for technology and innovation management in Latin America with the latest trends, experiences and cooperation networks in the face of the current technological transformation challenge.
From October 27 – 29, 2021, will be held the 19th Latin-Ibero-American Congress of Technology Management and Innovation, ALTEC 2021, in Lima (Peru). The event has the topic «Innovation and transformative technologies: dilemmas, challenges and actions to build a sustainable future ".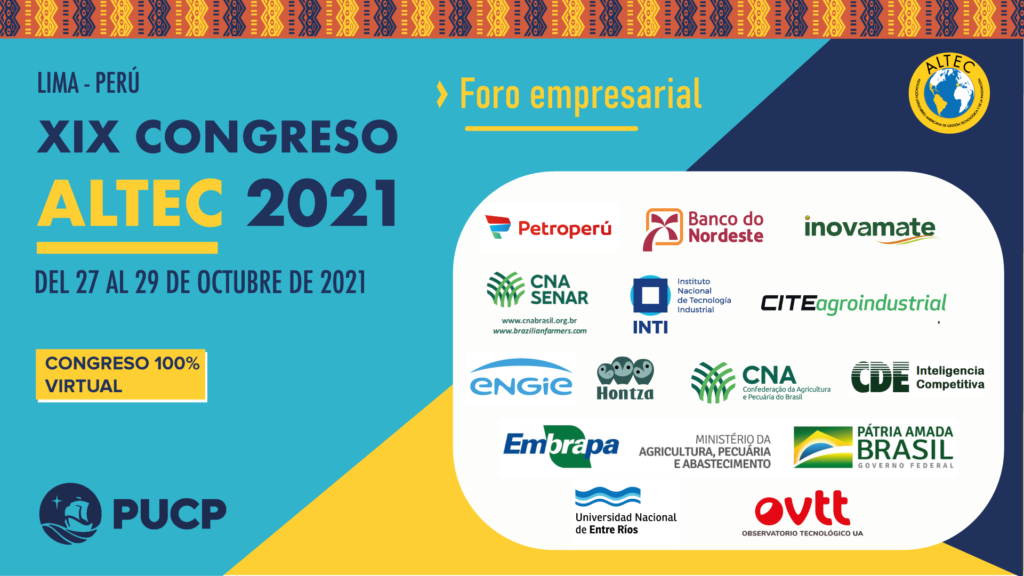 The thematic panels will be:
Emerging trends in STI research against the SDGs (transformative, inclusive, social, etc.)
Risk and uncertainty management for sustainability (foresight, strategic surveillance, maps, etc.)
Multilevel ecosystems of Science, Technology and Innovation (actors, networks, platforms, etc.)
Education in Science, Technology and Innovation (training, education, mobility, etc.)
Digital transformation and virtualization (business models, products, processes, services, education system, etc.)
Entrepreneurship, technologies and sustainable innovation (start-ups, technology base, social entrepreneurship, etc.)
Management of technology and innovation in organizational contexts (capacities, strategies, systematization, etc.) Technology transfer and linkage (spin-off, intellectual property, consortia, alliances, etc.)
Emerging technologies and trends (frontier, radical, frugal, etc.)
Well-being, technology and social innovation (in public management, health, cultural management, food, sport, etc.)
Transformative STI policies towards the SDGs (design, evaluation, etc.)
ALTEC 2021 will include the Business Forum dedicated to technology monitoring which will have the participation of the OVTT: Technology Transfer Observatory of the University of Alicante, and CDE Competitive Intelligence, both from Spain.
More information: ALTEC 2021
See other sectors