Tsinghua-UC technology transfer meetup
Webinar specialized in technology transfer and innovation with expertise from leading universities in Chile and China.
2021/06/23
Internet (Chile and China)
On June 23 and 24 is held the webinar "Tsinghua-UC technology meetup", a digital meeting with expertise in technology transfer and innovation organized jointly by the University of Tsinghua (China) and the Pontificia Universidad Católica de Chile (Chile). The goal of the meeting is to exchange points of views from two leading universities that share the promotion of technology solutions development and implementation in their countries. The technology transfer and innovation from universities is essential to boost disruptive solutions and impact the competitiveness of companies and entrepreneurs.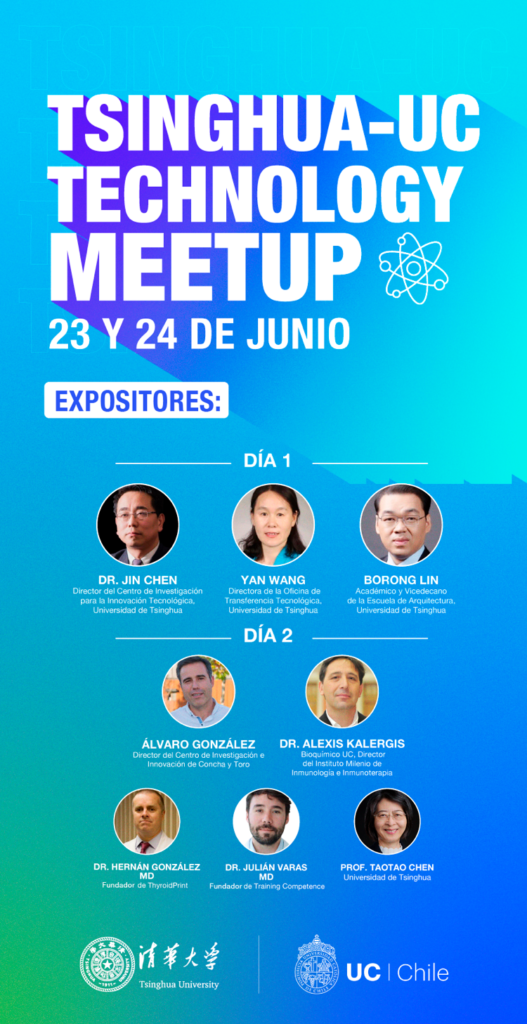 This interesting digital meetup is divided into two days dedicated to each University:
Day 1: Technology transfer for the development of innovation ecosystems.

Culture of technology transfer for the development of China.
Beyond Transfer: How Spin-offs and University Tech Can Successfully Scale
Technology exhibition: sustainable construction
Day 2: Opportunities for technology appropriation in Chile

Opportunities for technology innovation in Chile
Collaborative technology transfer: the case of the Sinovac vaccine
Technology exhibition: Health tech
More information: Tsinghua-UC technology meetup
See other sectors