Meetings: UA Technology Transfer Days
The University of Alicante promotes Technology Transfer Days, online meetings designed for networking among companies and researchers, which seeks to solve companies' real problems based on technology and innovation from the University.
2023/02/21
Internet (Spain)
On February 21st, takes place, the second cycle of Technology Transfer Days dedicated to the agri-food and hospital diet sector. These are online meetings designed to promote networking between companies and researchers from the University of Alicante, with the aim of solving companies' real problems, from a technology and innovation point of view.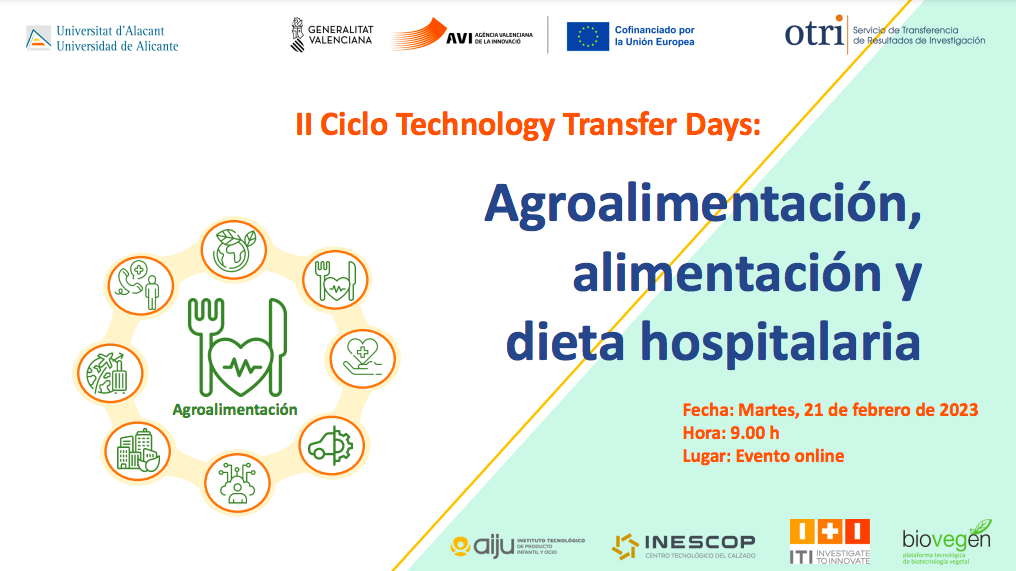 The Technology Transfer Days are promoted by the University of Alicante in collaboration with the Technological Institute of children's and leisure products (AIJU), the Technological Institute of Informatics (ITI) and the Technological Institute of Footwear (INESCOP), thanks to Valencian Innovation Agency (AVI) funding.
The event will consist of an initial opening and a presentation on the agri-food sector. Then, the meeting will be divided into a series of private virtual rooms and in each, a company will meet confidentially with different research groups. To determine which are the most appropriate and interesting groups for each of the companies, it is necessary to fill out a registration form and indicate which areas of interest or needs they have.
The objective of the meetings is to get to know the companies and their needs, to match with the research being carried out in the UA for potential synergies that can be forged in projects.
More information: OTRI UA
See other sectors